Patriots

The Buccaneers are the lone team in the 2023 NFL playoffs with a record under .500.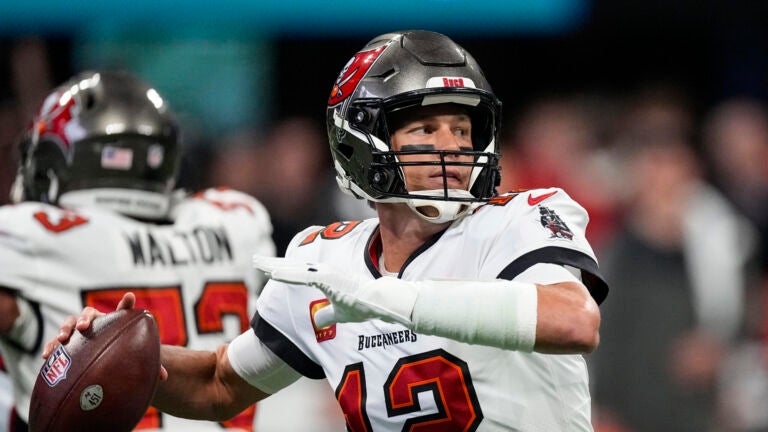 The Buccaneers aren't exactly a favorite heading into the 2023 NFL playoffs.
But even if Tampa Bay stands as the lone postseason team with a record under .500 (8-9), oddsmakers are still not counting out Tom Brady and his ability to orchestrate yet another Super Bowl run.
According to the latest odds (via DraftKings Sportsbook), the Buccaneers hold the fourth-best chance of winning the Super Bowl among NFC teams (+2800), and the eighth-best odds overall among the 14 teams in the postseason.
Here is the full list of Super Bowl odds:
Kansas City Chiefs +350
Buffalo Bills +400
San Francisco 49ers +500
Philadelphia Eagles +550
Cincinnati Bengals +850
Dallas Cowboys +1200
Los Angeles Chargers +2000
Tampa Bay Buccaneers +2800
Minnesota Vikings +3500
Baltimore Ravens +3500
Jacksonville Jaguars +5000
New York Giants +5500
Miami Dolphins +6000
Seattle Seahawks +7000
Tom Brady's postseason resume and propensity to deliver in crunch time mean that Tampa Bay should not be overlooked in any playoff matchup. But Brady and Co. still have their work cut out for them if they want to make it through a daunting group of NFC contenders.
The fourth-seeded Buccaneers will open their playoff run with a harrowing matchup against the No. 5 Cowboys on Monday night at 8:15 p.m. at Raymond James Stadium. The Cowboys are 12-5 on the season.
As of Tuesday night, Dallas is currently the 2.5-point favorite against Brady and the Buccaneers.
The Buccaneers defeated the Cowboys, 19-3, in Week 1 of the regular season, but both teams have veered off in different directions since that season-opening matchup.
After Dak Prescott returned from a hand injury, the Cowboys went 8-3 down the stretch, while the Buccaneers only posted two wins over teams above .500 during the regular season.
If the Buccaneers do defeat Prescott and the Cowboys, they will likely have to travel to Philadelphia to take on the top-seeded Eagles in the following round.
And even if the lower-seeded Giants or Seahawks pull off an upset and put the NFC playoff bracket into a blender, that just means that Brady would have to take on either the 49ers or Vikings on the road.
The 49ers — Brady's hometown club — defeated the Buccaneers, 35-7 on Dec. 11, with San Francisco one of three NFL franchises (Seahawks, Chiefs) who do not have a losing record in head-to-head matchups against Brady.
Betting against Brady in the postseason is a risky endeavor. But the road to an eighth Super Bowl title won't be easy for the 45-year-old QB in 2023.
Newsletter Signup
Stay up to date on all the latest news from Boston.com