National Security Council (NSC) spokesperson John Kirby said Sunday that WNBA basketball player Brittney Griner is "in good health," and insisted the United States is still working to secure the release of former U.S. Marine Paul Whelan.
Kirby told ABC's This Week co-anchor Martha Raddatz that Griner was now recovering in Texas after being freed in a prisoner exchange for Russian arms dealer Viktor Bout on Thursday.
"She's [in] San Antonio at the Brooke Army Medical Center, getting appropriate mental health care as well as physical health care, just to make sure that she's ready for her reintegration back into American society," Kirby said. "They'll work that out with the doctors and the family as to how much longer she'll need to be out there. But our initial reports are she's in very good spirits and in good health."
Griner was arrested in Russia in February for allegedly possessing cannabis oil in her luggage when she arrived at a Moscow airport. The Phoenix Mercury player had traveled to the country to compete in a pro league there during the WNBA off-season. She was sentenced to nine years in prison in August.
Kirby added that White House officials are still working to bring Whelan back to the U.S., but that his arrest on suspicion of spying in Russia made his situation more difficult.
Conservative figures, including former President Donald Trump, slammed President Joe Biden for having failed to secure Whelan's release.
"Why wasn't former Marine Paul Whelan included in this totally one-sided transaction?" Trump asked in a Truth Social post. "He would have been let out for the asking. What a 'stupid' and unpatriotic embarrassment for the USA!!!"
However, Whelan's brother David, said Biden had made the right call in securing Griner's release and told CNN that he was "absolutely supportive" of the decision.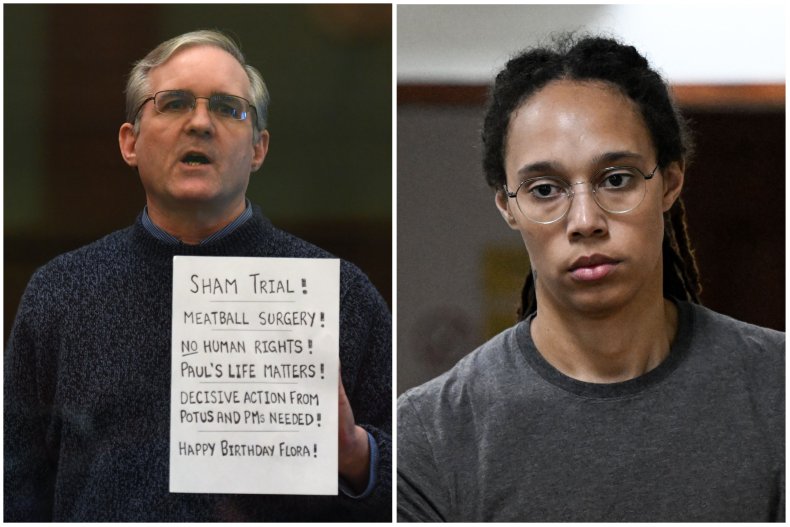 "An American in that situation who has a possibility of coming home…I think the U.S. president has to bring them home," he said. "And unfortunately for my brother and for our family, it's not our family member, but I think from the perspective of Americans, that's the right decision."
When asked when the White House realized Whelan would not be released, Kirby told Raddatz: "It really occurred to us that there was just no chance of doing it last week. We've been trying all the way up until the moment we actually secured the deal that got Brittney home, we were still trying to get Paul out."
The former Marine, sentenced to 16 years in a maximum-security Russian prison colony in 2020, previously told CNN that he believed he was in "a precarious situation" and called for the Biden administration to "do everything they could to get me home, regardless of the price they might have to pay at this point."
In his Sunday interview, Kirby added: "They [the Russian government] hold Mr. Whelan differently because of these espionage charges and so we're working through that now. We are now more informed clearly, having gone through this process for the last few months. We have a better sense of the context here of the Russians' expectations and where they are and we're going to keep working at it."
Newsweek has contacted the White House and the Kremlin for comment.