BMW has a new vision. Fresh on the heels of a series of vehicle reveals involving new concepts related to mobility concepts and future technology, the automaker showed off the BMW i Vision Dee, a mid-size sedan with uniquely emotional features at the CES trade show in Las Vegas.
The word "Dee" stands for Digital Emotional Experience, a name BMW has given to its design aim, which creates a stronger bond between people, their cars, and the cars' technology.
BMW's i Vision Dee concept car is a look at what to expect once BMW's Neue Klasse vehicles hit the road from 2025. The company sees that date, and those vehicles, as the next generation of the BMW brand, an evolution launching the company into its digitized, electrified future.
Last year, the automaker debuted its iX Flow Featuring E Ink, an all-electric BMW iX sport utility vehicle (SUV) that has the ability to change colors from black to white. The new i Vision Dee has similar capability, only it can wear up to 32 colors, which can be configured as a solid or in patterns.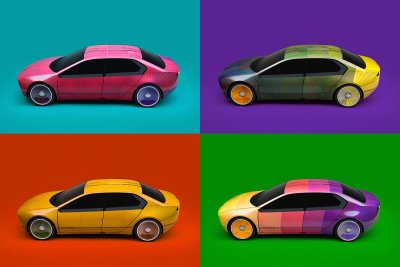 "With the BMW i Vision Dee, we are showcasing what is possible when hardware and software merge. In this way, we are able to exploit the full potential of digitalisation to transform the car into an intelligent companion. That is the future for automotive manufacturers – and, also, for BMW: the fusion of the virtual experience with genuine driving pleasure," said Oliver Zipse, Chairman of the Board of Management of BMW AG.
Here's how it works. The concept car is divided into 240 E Ink segments of film, each of which is controlled individually, allowing for a different color to be displayed on each segment, or a pattern to be shown. The patterns can be generated and varied within seconds.
BMW worked with E Ink, a smart surfaces technology company, to develop the materials for vehicle use. The adaption of the technology for the curved surfaces and the animations programming was developed by BMW Group's in-house engineering teams. Their involvement means that the customization is unique from anything else in the automotive sector worldwide.