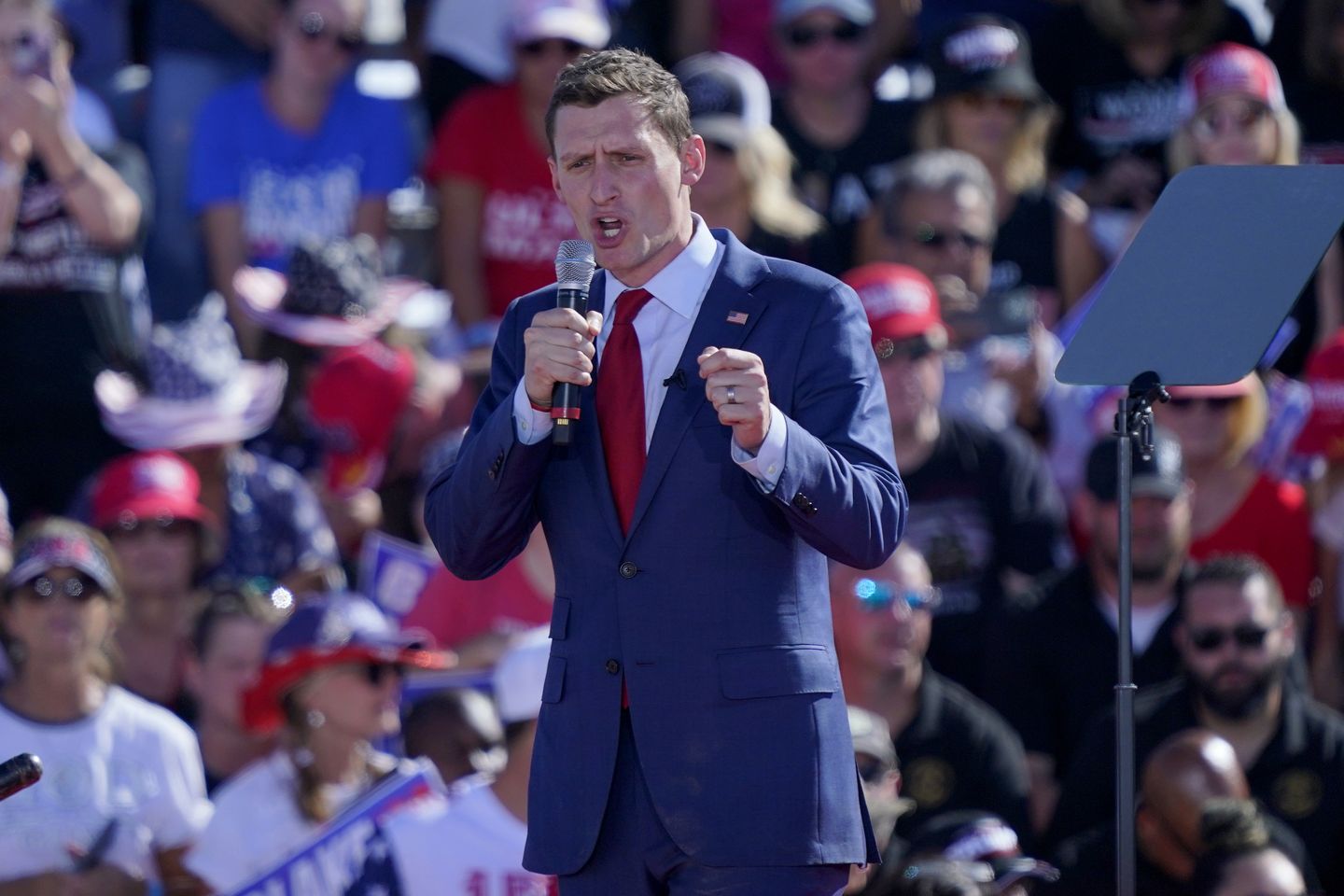 Blake Masters, the Arizona Republican who lost the election last year against Democratic Sen. Mark Kelly, is reportedly preparing to run again in 2024 in a bid to square off against Democrat-turned-independent Sen. Kyrsten Sinema.
Mr. Masters lost to Mr. Kelly by roughly five percentage points, or just under 126,000 votes. Reports say he is gearing up for another election as Republicans hope the crucial swing state will help them take back the Senate.
Mr. Masters could not be reached for comment. Citing anonymous sources, The Wall Street Journal and Politico reported Wednesday that he could announce in the coming weeks.
---
---
A three-way race is already teed up between Ms. Sinema, Democratic Rep. Ruben Gallego and the eventual GOP nominee.
Pinal County Sheriff Mark Lamb, a Republican, is currently running.
Ms. Sinema has not said whether she'll seek another term in the face of polling that projects she'd likely hand the race to Mr. Gallego by siphoning GOP support from Mr. Lamb.
Another unknown factor is Republican Kari Lake, who is eyeing a potential announcement for the seat in the fall. A close Trump ally who's been floated as a potential vice presidential candidate for Mr. Trump, Ms. Lake lost her bid for Arizona governor in 2022 and frequently campaigned alongside Mr. Masters.
Senate Republicans need a net gain of only one or two seats to control the chamber, depending on which party controls the White House, thanks to the vice president's ability to break ties.
Barrett Marson, an Arizona-based GOP strategist, told The Washington Times he last spoke with Mr. Masters earlier this month about an unrelated topic. He doesn't believe Mr. Masters will run if Ms. Lake enters the race, for a myriad of reasons.
"Blake Masters and Kari Lake occupy the exact same lane. Lake is more popular, and probably has the ability to raise more money," Mr. Marson said. "She's kept up her public appearances over the last year since her loss and she's expanded her network. It would be incredibly difficult for Blake to successfully take on Kari Lake in the primary."
But Mr. Marson emphasized he thinks both Mr. Masters and Ms. Lake carry too much baggage to have a shot in the general against Ms. Sinema or Mr. Gallego. He said Mr. Lamb's experience dealing with drugs and illegal immigration as a sheriff in a border state makes him the best option for Senate Republicans.