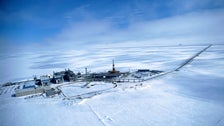 The Biden administration on Monday gave final approval to a scaled-back version of a controversial fossil-fuel drilling project in Alaska's National Petroleum Reserve — a move that is likely to outrage environmentalists and critics alike.
The so-called Willow Project, led by ConocoPhillips, is slated to produce up to 590 million barrels of oil over its 30-year duration, and is conspicuously at odds with Biden's pledge to transition the U.S. away from planet-warming fossil fuels.
This is a developing story. Check back for updates.