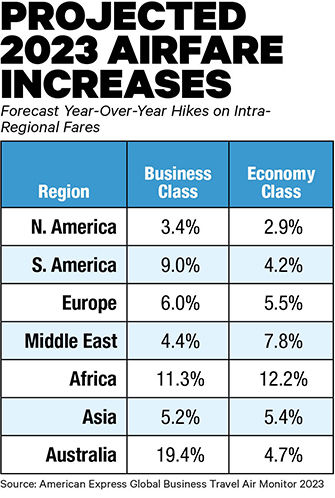 Spurred by persistent inflation and labor shortages and in some regions capacity limitations, 2023 economy- and business-class airfares throughout the world are projected to increase year over year, according to a new report from American Express Global Business Travel. For some routes, particularly those to and within Asia, the travel management company predicts increases of more than 5 percent.
Amex GBT in its Air Monitor 2023 report, released last week, forecasts 2023 business-class fares within North America to increase 3.4 percent year over year and economy-class fares to increase 2.9 percent. The TMC projects intra-Europe fares to increase 6 percent in business class and 5.5 percent in economy, while fares between North America and Europe are forecast to rise 3.7 percent in each class.
Amex GBT noted the complexity of projecting the 2023 landscape, given the delicate economic situation, the changing state of Covid-19-related entry restrictions, especially in Asia, and the effect of the pandemic on the historic travel data the TMC uses to issue its forecast. Still, Amex GBT suggested that carriers throughout the world would raise fares from 2022 levels.
"Some airlines now expect to end 2022 in profit; as the world continues to reopen they should see an overall return to profitability in 2023," according to the Amex GBT report. "However, aviation will face headwinds as it sets about rebuilding its position and this will create challenges for corporate travel."
Headwinds the TMC cited include persistent inflation and airport and airline staffing shortages, the latter of which Amex GBT indicated played a key role in this year's capacity restraints. "Complex staff onboarding processes, which include in-depth security screening and training, are some of the reasons why air has not been able to return to full operational capacity as quickly as other sectors," according to the report. 
Projected 2023 capacity varies by region, with Amex GBT forecasting North American capacity as measured in available seat miles to exceed 2019 levels in the first quarter. Meanwhile, the TMC projects first-quarter capacity in Asia only to reach 91 percent of 2019 levels, contributing to fare pressure in the region as it continues to shed Covid-19 restrictions.
Amex GBT also cited the effect of foreign exchange rates on airfare pricing outside of the United States, with the strength of the U.S. dollar a key factor. 
"Companies reporting travel cost in dollars may see flat average ticket prices (ATP)
on routes out of Europe," according to the report. "In fact, ATP could be significantly higher with the price rise masked because of the strength of the dollar; for example, the dollar appreciated 13 percent versus the euro during 2022. The [foreign exchange] effect can be particularly strong in emerging regions such as South America."
RELATED: Amex GBT: 2023 Hotel Prices to Rise Again but Pace to Slow