An airline passenger credited with saving a man's life mid-flight from a fentanyl overdose is urging Narcan to be made available on all planes.
Drew Ashley and his father, who run a First Aid, CPR and AED training company, were on a Florida-bound Southwest Airlines flight when a passenger began showing signs of an overdose. 
"I was sitting in the row behind him, my father was sitting right next to him," Ashley told "America's Newsroom" Tuesday. "I was asleep, and my father started yelling my name as he pulled him to the aisle… we have our own company, the Life Saviours… so we knew what to do, the signs to see for an overdose. Just knowing the situation, he was going into respiratory arrest with the overdose. We were just doing what we had to do. Keep getting him air and keeping him alive."
PORTLAND RESIDENTS OUTRAGED AFTER BAGS OF FENTANYL FOUND IN POPULAR CITY PARK: 'NO PLAYGROUND IS SAFE'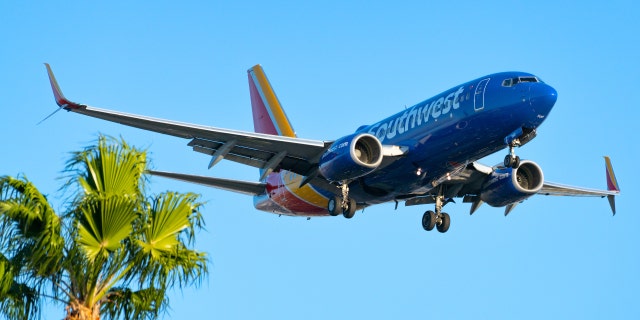 "He was going through respiratory arrest, which means he wasn't getting enough air within about 60 second period. So we were doing, about every five, six seconds, we would give him a breath with a BVM bag, at the same time holding his pulse from his brachial because it was too weak for his wrist. And then when he was vomiting, experiencing that type of behavior, we would put him to his side, clear out his mouth, clear out his nasal passage, so he would be able to get air in and then put them in," he continued.
Ashley said he asked the flight attendants for Narcan – a nasal spray that helps treat overdoses in an emergency situation. There was none available on the plane.
"A lot of the stewardesses were just looking at us like, what is that? Just looking at us. So at that point, we just had to do what we had to do to try to survive that person," he said.
Ashley, his father, and two other passengers who were nurses tended to the 27-year-old man for 45 minutes until the plane could make an emergency landing in Orlando, WTFS reported.
While they were able to keep the man alive, Ashley said the incident raises the conversation about having Narcan accessible on the ground and in the air, saying the treatment should "100%" be available in the air.
OVER 100,000 AMERICANS DIED FROM DRUG OVERDOSES IN 2022, CDC SAYS
"It's just crazy that you would think that they would have Narcan, naloxone on the ground, but not in the air. People of all shapes and sizes go through overdose. And I feel like it would help save a lot of lives."
In a statement, Southwest wrote, "Out of respect for our Customers' privacy, we do not comment on medical issues—except we can confirm that medical personnel met the flight at the gate and the Customer was transported to a local hospital. We commend those that assisted in flight."
Across the country, schools and many public spaces are seeing a surge in Narcan availability as the fentanyl crisis creates a higher demand for the life-saving treatment. 
Earlier this year, the Food and Drug Administration (FDA) approved the first over-the-counter Narcan spray. Doctors and first responders say making this opioid reversal drug more available could help lower the number of people dying from overdoses.   
CLICK HERE TO GET THE FOX NEWS APP
After the in-flight experience, Ashley is advancing calls to bring Narcan onto planes across all airlines. His Life Saviours company is one method he uses to bring awareness of the drug "epidemic" facing the country as well as equipping individuals with "life-saving" techniques and knowledge.
"We're trying to go through this movement, so everybody, all over around the country, whether on the ground or in the air or traveling or what have you will have access to this. It's been a huge epidemic the last couple of years in this country. We just got to do what we have to do to try to save people. And I think having legislation where Narcan, Naloxone again is obtainable on flights could save a lot of lives."
Fox News' Mills Hayes contributed to this report.