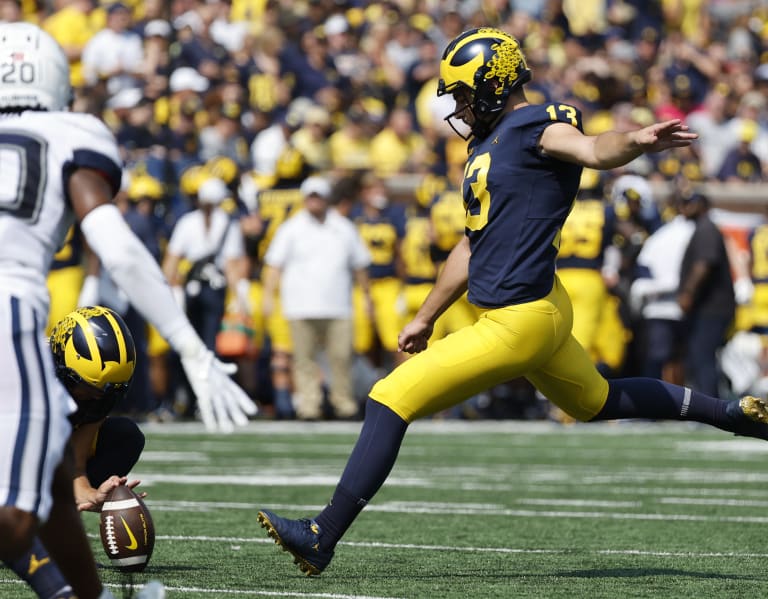 ANN ARBOR, Mich. — Michigan football narrowly escaped Ann Arbor with a two-point win over Illinois, overcoming a 7-point deficit in the second half.
After an injury sidelined Michigan's Heisman contender RB Blake Corum, the U-M offense sputtered but survived, overcoming the Fighting Illini for a two-point win at home.
The win puts the Wolverines at 11-0 heading into Ohio State next week, where both teams will play to determine the Big Ten East & potentially a College Football Playoff bid.
Adversity strikes for the first time since Maryland
Michigan hasn't faced adversity since beating Maryland by a touchdown in Week 4.
After scoring a touchdown on its first drive, Michigan wouldn't score another for the rest of the game.
Ilinois took control of the game in the second half but never jumped to a two-possession lead.
Michigan erased a 7-point deficit with nine unanswered points, ultimately winning the game 19-17.
Offensive struggles worsen without Corum, Edwards
Michigan's offense was a nightmare on Saturday.
Averaging five yards per play, if you take away its 75-yard opening drive, Michigan totaled 301 offensive yards.
Which begs the question, without Corum, what will this offense do?
McCarthy didn't register a touchdown & completed only 53% of his passes on 34 attempts.
Death. Taxes. Jake Moody.
How about Jake Moody?
In his final home game, the fifth-year senior won the game for the Wolverines, which adds to his point total that leads all kickers nationally.
Moody was called upon to kick three FGs that ultimately determined the game, including a 35-yarder with nine seconds left.